Go back
It has been several years since the Dutch brewer Heineken reached an agreement with Formula 1 to join Pirelli and Rolex as title sponsors of the most prestigious competition in motorsports. The Formula 1 sponsorship worth nearly $300 million, allows the brand to associate its image with the sport and capitalize on its thriving popularity. How is Heineken's association with the pinnacle of motorsports a great sponsorship model?
How the Formula 1 event benefits Heineken
As a financial sponsor, the brewer has important distribution, activation, and access rights to most of the championship's events along with the possibility of having a significant presence on some of the 23 Grand Prix circuits. Formula 1 engages its sponsors by offering them naming rights to its events. Heineken's F1 deal saw it take the title rights to four Grand Prix races.
The beer brand's sponsorship contract aims to create brand awareness through its various campaigns. These are structured around key success factors and ensure that the right fit is created between itself and the property. They leverage similar touchpoints between the two, including visibility during the event (500 million views per Grand Prix), target audience, and Formula 1's positioning in sports.
The most significant advantage of being a title partner of Formula 1 races is the sponsor's exposure throughout TV broadcasts.
The naming activation was initially not well perceived and somewhat misunderstood. The link between alcoholic beer and motorsports at first seemed inappropriate, but Heineken managed to use this apparent incongruity to its advantage and reaped the benefits of cause marketing. Cause marketing turned out to be the best way to promote Heineken's non-alcoholic 0.0 beer, which, thanks to the brewery's safe driving campaigns, now dominates a large portion of this niche market.
In May 2021, following the health crisis, Heineken launched its "Pit Wall Bar" activation. The brand offered fans the opportunity to immerse themselves in the world of F1 from home by watching a race in conditions inspired by the circuit's paddocks and pit walls. The brewer created a minibar that included several screens (television and tablet), a beer draught dispenser, and decorations in the brand's colours. The social media campaign launched at the Italian Grand Prix included a contest on the F1 website that gave 10 fans the chance to win the minibar and offered hundreds more race enthusiasts scores of other prizes (equipment, signed merchandise, invitations…). Heineken brought David Coulthard (256 F1 Grand Prix) and Sir Jackie Stewart (Triple World Champion) on board as celebrity endorsers for this campaign. Everything about the campaign, from partner collaboration, remote shoots, ambassadors, the creation of a suite of assets, and launching across owned media, earned media, and partner channels, was meticulously planned to ensure its success.
Heineken has a history of using celebrity endorsements for their F1 campaigns. The most illustrious one to date goes back to 2019, when it brought together two of its global sporting partnerships (F1 x UEFA) to celebrate both the 1000th F1 Grand Prix and the visit of the UEFA Champions League Trophy to Shanghai. UEFA's Luis Figo, Xabi Alonso, and Clarence Seedorf joined F1's Nico Rosberg and Pierre Gasly in the activation.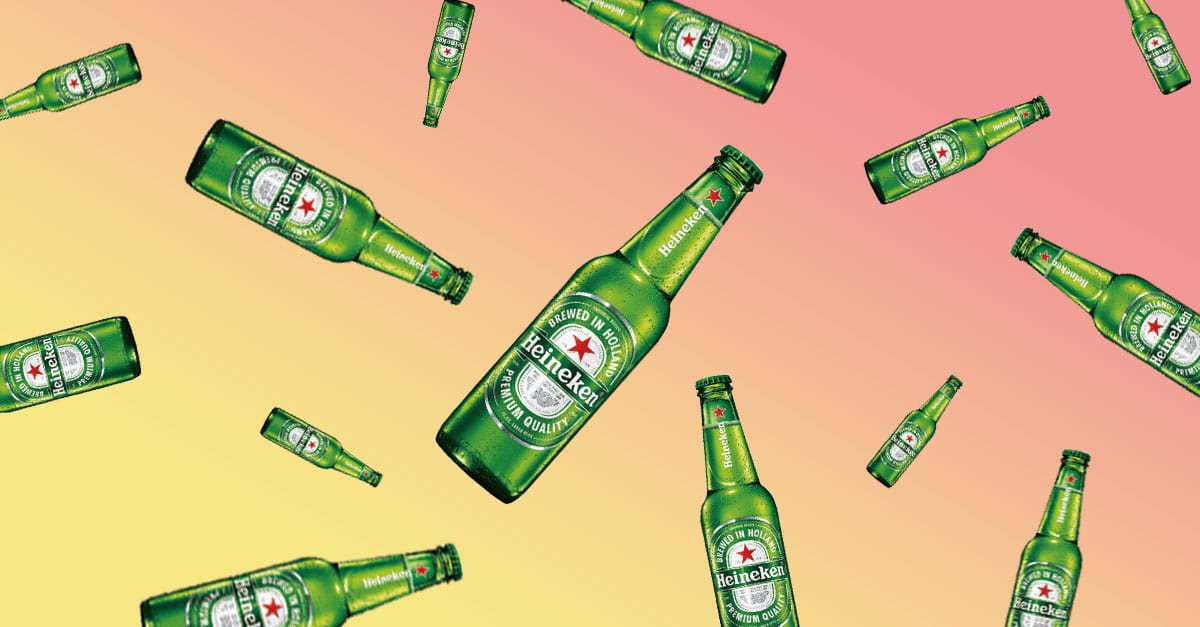 Like the Dutch lion Max Verstappen, Heineken's positioning in the automobile world might strike one as audacious. But the brewer's goal of reaching an international target that consumes a lot of beer and is potentially interested in this alcohol-free drink lay at the heart of its strategy. The result was a congruent fit and messaging that made the connection seem obvious.
Heineken's aim was to sponsor one or more teams to cement its reputation in this international sport. Unfortunately, the process was not as easy as had been expected, as they faced competition from many other alcohol companies (Johnnie Walker, Martini, Smirnoff) that already had established partnerships and solid brand awareness.
With a presence in over 190 countries, Heineken leveraged its position of power and joined forces with Red Bull in a contract that included drivers Max Verstappen and Sergio Perez, both of whom were featured in its new "Pit Wall Bar" campaign. The beer brand thus took advantage of the "fun and offbeat" image of these two athletes (athlete sponsorship) to reinforce the credibility of its product and stand out from the crowd. It broadened its visibility while expanding its reach across different demographics (Max's appeal was to younger fans and Europeans; Sergio spoke to an older base and Latin Americans).
When the cost of sponsorship is weighed against its benefits, it's not hard to understand why the Dutch giant took advantage of such visibility to position itself in the minds of consumers as the market leader in alcoholic and non-alcoholic beer.
At the end of 2006, when the cigarette manufacturers had to bow out due to the ban on tobacco sponsorships, Formula 1 faced a decline in sponsorship revenues. But new opportunities emerged for other sponsors. Now in a position to counter attempts by emerging competitors and remain in the top category, Heineken's red star is not about to stop shining any time soon.
By Pauline BRAUN – Céline JAEGER – Fabien REMY – Mika SANDRIN – Margaux ZULIAN