Go back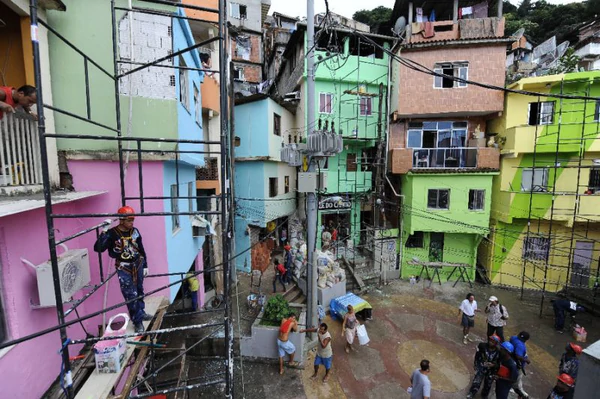 It's simple. It's relevant. And it encourages participation in a way that benefits communities.
With the Human Cities initiative, AkzoNobel—a world leader in decorative paints, performance coatings and specialty chemicals—is helping cities face the current and future challenges of urban growth. Their program reflects above all the company's vision to improve, revitalize and regenerate urban communities around the world. It is estimated that 70% of the world population will be living in an urban centre in 2050. For a company whose products are found in urban buildings and infrastructures, AkzoNobel has an obvious interest in the matter.
In 2010 AkzoNobel launched the project "Let's Colour" as part of the Human Cities program, whereby the company and its paint brands around the world (including Dulux) supply cities with paint as a way of adding colour to people's lives. More concretely, the initiative serves to distribute paint products free of charge and, in some markets, to get employees involved in paint projects in underprivileged neighbourhoods or with community organizations.
One of their latest projects was the repainting of the walls of the Santa Marta favela in Rio de Janeiro. Last August, 450 volunteers repainted 300 neighbourhood buildings there—the objective being to paint 600 of them before the 2016 Summer Olympics. AkzoNobel partnered with a local not-for-profit organization, En quero o Santa Marta Limpo!, to clean up the streets of the favela. All in all, the company has supplied 750,000 litres of paint since start of the program.
What makes the project so compelling is the volunteer aspect of the program that sees a lot of employees picking up a brush and lending a hand. Anyone around the world can submit a project and get free paint to carry it out with the help of a team of volunteers.
This platform—developed by AkzoNobel itself—ties in seamlessly with the company's social responsibility program and gives them full control to manage and market it as they see fit. It is quite rare to see a worldwide company responding to local needs in so many different markets, which is where having a platform of its own becomes such an advantage. A strategy like this has a lot going for it. It gets consumers and employees involved in local projects, either to help submit projects or to do volunteer work. The projects that are selected also generate content at a low cost, enabling the company to talk about the program on its platforms in each country, and to make sure that its products feature prominently. You can't miss the company's involvement in the program, as its products play such an important role in the end product.
The company's social responsibility programs and its ad campaigns are sometimes treated separately. This program serves as a good example of how to create a platform from scratch and leverage it in a way that achieves multiple objectives—that are usually distinct—with a single initiative.
Sources:
https://www.akzonobel.com/news_center/news/news_and_press_releases/2015/akzonobel_lets_colour_event_sees_450_volunteers_transform_rio_favela.aspx
https://www.akzonobel.com/aboutus/human_cities/our_human_cities_initiative/color/
http://www.letscolourproject.com/
https://www.akzonobel.com/system/images/AkzoNobel_Our_Human_Cities_initiative_tcm9-86357.pdf