Go back
How local is the fanbase of a Canadian NHL team? Well, that depends on the team. While some have a widespread fanbase, spanning far across the country, others have a much more home-based following.
See what proportion of each team's total fanbase is located in which region of Canada.
Elevent conducted the Perspectives national study among 2,125 respondents.
Most Canadiens' fans are from outside Quebec
While the Habs have a highly engaged fanbase at home, 59% of the team's fans live outside of Quebec.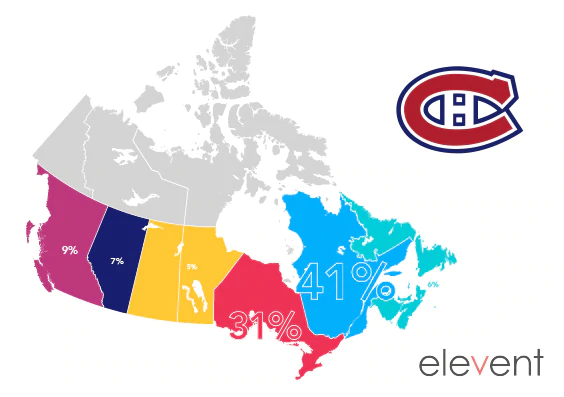 The capital
Fans of the Senators are mainly located in Ontario but are also well represented in the Rockies and in Quebec.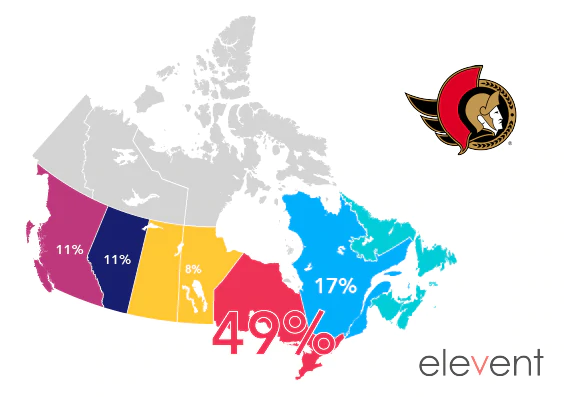 Local fans
The Leafs are by far the team with the most local fanbase, with 64% of their fans residing in Ontario.
Broad appeal
The percentage of Jets fans living outside of the prairies is 74%, making it the team with the most widespread fanbase. Demographic density likely plays a role in the distribution of their fans.
Mind the gap
While we can find many Oilers fans in Ontario, provinces neighbouring Alberta do not represent a significant pool of fans for the team.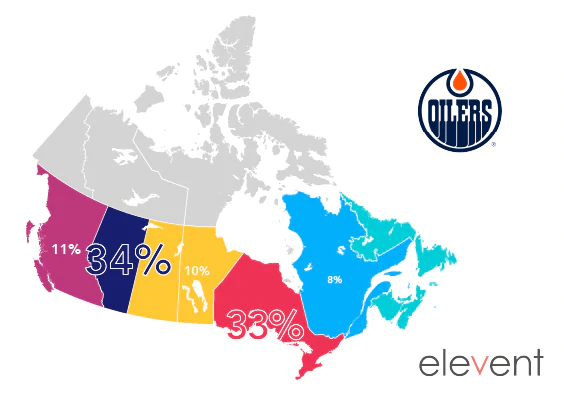 East and west
The same is true for the Flames, with 36% of its fanbase living in Ontario and only 20% residing in BC, Saskatchewan and Manitoba combined.
Shop local
The Canucks have the second most local fanbase, with about half (48%) of their fans living in BC.
Source
Perspectives 2021, Elevent – Sample of 2,125 respondents who took part in an online panel survey.
Question: "What best describes your relationship with the following sports teams?" Participants who answered "I'm a diehard fan" or "I'm a fan" are represented.
*No margin of error applies since this was a panel survey.