Go back
The top ten most enduring sponsorships of all time
By Alexandrine Lapointe
Sponsorship has evolved over the years. And while it is far more sophisticated today, especially in terms of sponsorship valuation and performance measurement, some old-school partnerships have had highly successful long-standing sponsorship relationships.
Discover 10 of the most enduring sponsorships of all time along with the key ingredients of their success.
10. VfL Wolfsburg and Volkswagen – 31 years of partnership (active)
The German multi-sports club VfL Wolfsburg bears the name of its city, which is also home to Volkswagen's headquarters.
Their long-term partnership, which dates back to 1991, has broken the record for the world oldest shirt sponsorship.
Volkswagen has been involved with the club for over 30 years. Besides the visible jersey sponsorship, their partnership has deeper roots: In 2002, VW bought the club and a 50% stake in their new stadium, the Volkswagen Arena.
One of Volkswagen's highest-profile activations has been to gift VfL Wolfsburg's top players with the car of their choice from the VW lineup.
Both the club and the brand are advocating for impactful change to tackle the climate crisis. Their joint sustainability objectives include the following three main priorities: promoting sustainable transport and mobility for their workforce and fans, saving natural resources, and using efficient and innovative sources of energy. Since 2011, VfL Wolfsburg has been using 100% renewable energy, generating electricity from a solar PV system to power the stadium.
The Volkswagen Group is also aiming to meet the goals of the Paris Climate Agreement and become carbon neutral by 2050. VfL Wolfsburg, for its part, has pledged to reach net-zero emissions by 2025.
The relationship between the two entities is distinct from that of other partnerships because of the history that unites them. Both organizations having developed in the same city, the alliance between the two was a natural fit and solidified Volkswagen's continuing presence in the community.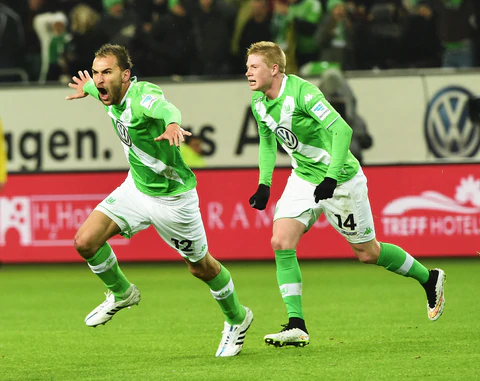 9. Hugo Boss and McLaren – 33 years of partnership (no longer active)
One of the longest-running sports partnerships was the association between fashion brand Hugo Boss and the McLaren Formula One motor racing team. Signed in 1981, their enormously successful partnership expired in 2014, after 33 years. During that time, Hugo Boss played an important role in crafting the team's appearance and identity.
Hugo Boss then announced it was moving on to Mercedes-Benz as its official supplier of lifestyle and formal wear clothing, extending an existing partnership with that team. This alliance lasted until 2017. The Mercedes team is now dressed by Tommy Hilfiger.
Also on the fashion front, McLaren also had a long-standing 30-year association with the Swiss watchmaker TAG Heuer, until McLaren lost TAG to Red Bull Racing in 2016.
Both Hugo Boss and TAG Heuer abandoned McLaren when the team was grappling with performance issues. Being associated with a winning team has major upsides that have been documented in multiple studies. However, performance in sport is cyclical, and brand equity is built over time, through consistency.
If companies are aligned for the right reasons—brand image, presence of a target audience—it can be wiser to weather the storm and forge bonds with core fans via activations rather than pull the plug to join another performing team, as the chances are high that they'll find themselves in the same situation down the road.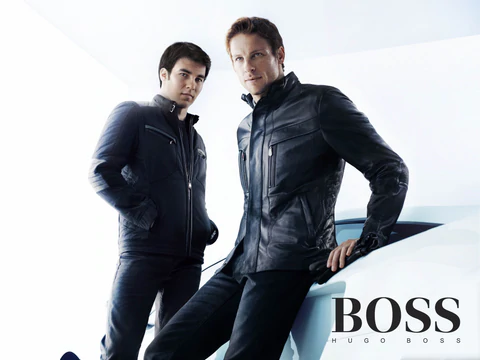 8. John Hancock and the Boston Marathon – 37 years of partnership (active)
The partnership between the world's oldest marathon in Boston and John Hancock, the Boston-based financial and insurance company, founded in 1862 (now owned by Manulife of Canada), has been going strong for 37 years.
The John Hancock–Boston Marathon partnership evolved over time and is now an integral part of this iconic race held each year on Memorial Day.
The principal sponsor of the marathon since 1986, John Hancock was the first to offer a prize purse for a running event and has since provided over $20 million to elite athletes.
John Hancock has recruited and sponsored world-class athletes each year to run in the marathon under the John Hancock Elite Athlete Team banner. In all, more than 800 of the world's best athletes from 47 different countries have benefited from this initiative. While most major marathon organizers, not their sponsors, are usually responsible for managing the athletes, when the financial firm began sponsoring the race in 1986, it also assumed the responsibility of recruiting athletes and managing the elite team. But in 2021, John Hancock handed these duties back to the event's organizer, the Boston Athletic Association.
In 2018, John Hancock teamed up with Spotify to create special playlists in collaboration with 20 of the top runners. The goal was to extend their reach to a national audience. The playlists were made available on the Spotify platform so that runners from all over would be able to tap into the mindset and spirit of elite runners.
One of John Hancock's goals throughout its sponsorship was to give back to the community in which it conducted business. As a result of its involvement, the marathon now has a strong philanthropic focus. Since its inception, the John Hancock Marathon Non-Profit Program has helped the event raise more than $426 million for various charities.
Aside from its main partnership status with the Boston Marathon, John Hancock has attached its name to other initiatives such as Scholars & Stars in Hopkinton and Marathon on the Road. The first was created 29 years ago to bring elite Kenyan athletes together with Hopkinton elementary school students for a pre-race pep-rally and to help them learn about the culture of elite running. The second gives elite marathoners the chance to take part in endurance events across America and gives people from different regions the chance to see the athletes perform.
The partnership has endured for so many years chiefly due to John Hancock's involvement in the racing community. Its initiatives contribute to the success of the event year after year. They reinforce the insurance company's status in relation to the marathon and offer both a unique positioning in that space and the prestige of being associated with the world's premier running event, a key differentiator for attracting wealthy (healthy) investors.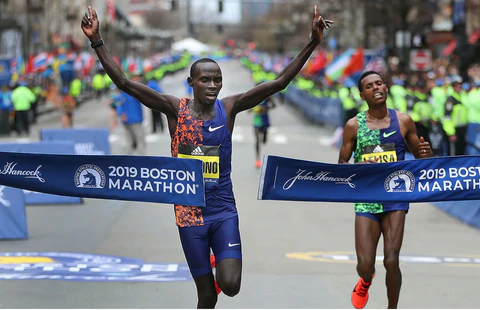 7. GATORADE x NFL – 39 years of partnership (active)
The birthplace of Gatorade—the thirst-quenching beverage created in 1965 for the Florida Gators football team—the University of Florida today still collects 20% of royalties from the sales of this iconic drink.
Inspired by the team's name, the brand was born of the Gators' coach's concern for why his players were being so negatively affected by the heat. He approached a group of scientists on campus to determine the cause. They discovered that it was due to the loss of electrolytes, carbohydrates, and body fluids during physical exertion. The solution was to create a drink to replenish these elements. In 1983, 18 years after the brand's debut, Gatorade became the official drink of the NFL.
Over the years, a number of traditions have grown out of this partnership, including the "dunk celebration," the practice of dumping a cooler full of Gatorade over the head of the winning team's coach. Dating back more than 38 years, this ritual began with the MLB's New York Giants, when player Jim Burt doused his coach, Bill Parcells, to take revenge on him because Parcells had been riding Burt hard in the weeks before the game. But it wasn't until 1986 that the stunt caught on internationally and became something of a tradition.
Fun fact: Some NFL teams don't actually fill the coolers provided by Gatorade with the iconic beverage, but sometimes switch it out for water.
Many teams swear by a particular flavour, believing that certain colours, especially orange, enhance their performance during the season. This superstition has become so popular that, in recent years, fans have been able to place bets on sites such as Sports Interaction and Coolbet as to the colour of the Gatorade shower.
During a regular season, the 32 teams consume a combined average of over 464,000 gallons of Gatorade.
This sponsorship stands out for its unique history rooted in a celebratory ritual. The connection the brand has developed with the sport over the years makes the partnership all the more exciting.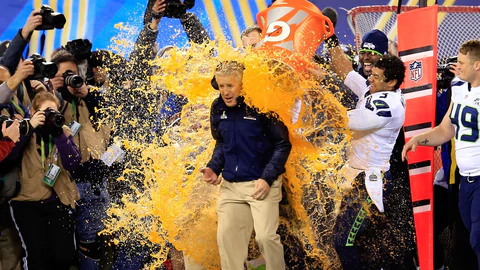 6. Rolex and Wimbledon – 44 years of partnership (active)
Founded in 1905 in London, England, luxury watch manufacturer Rolex has been supporting the world's oldest lawn tennis tournament as its official timekeeper since 1978. Over the years, it has backed individual players like Roger Federer and Garbiñe Muguruza, who in turn have acted as the brand's ambassadors.
Now headquartered in Switzerland, Rolex has a long history of tennis partnerships, starting with Wimbledon. Today, it can boast associations with all four Grand Slam tournaments, including the Australian Open, the US Open, and Roland Garros.
In celebration of their 40-year partnership, Rolex created an advertising campaign showcasing tennis legends. The ads featured the tag line "It doesn't just tell time. It tells history," to reinforce the link and heritage between the brand and Wimbledon.
Tennis provides an elite positioning platform. The association of this sport with one of the most prestigious watch brands in the world has proven a perfect match, and its longevity is a testament to its success.
5. FC Bayern Munich and Adidas – 48 years of partnership (active)
The world-renowned sportswear manufacturer Adidas was founded in Germany in 1949.
Best known for its football (soccer) team, FC Bayern Munich was formed in 1900. The club survived two world wars, but was not spared by these historic events. Due to the club's Jewish background, Bayern was targeted by the Nazis during World War II, and it lost its home after the club's office was destroyed by a bomb. The team's Jewish president was sent to a concentration camp for 33 days before fleeing to Switzerland.
Adidas has been Bayern's kit sponsor for more than 48 years, and the partnership has already been extended until 2030. In 2001, Adidas even acquired an 8.33% stake in the team, which turned out to be a sound investment as the team's value increased in the following years.
In 2019, in honour of the club, Adidas created two new special designs for its Speedfactory AM4 sneaker featuring the colours of one of Bayern's shirts .
The partners also collaborated on the creation of a music video with French rapper 1PLIKÉ140, entitled Rien n'est impossible (Every season on top like Bayern).
Adidas teamed up with another of its partners, the ocean conservation organization group Parley for the Oceans, to produce a sustainable jersey for Bayern Munich made from up-cycled marine plastic waste. In 2017, both renewed their commitment to ending marine plastic pollution by jointly launching Run For The Oceans, a global movement designed to raise awareness of marine plastic pollution that also raises funds for the Parley Ocean School program. Through initiatives such as these, their goal is to use only up-cycled marine plastic in their products by 2024 thereby reducing the global environmental footprint of the sportswear manufacturer.
What differentiates the Adidas–Bayern partnership is the mutual trust and respect they have for each other. Acquiring shares in the team further cemented their years-long relationship and played an important role in ensuring the longevity of their association. The partnership also enabled the sportswear manufacturer to strengthen its already well-established presence in the soccer world. And that allowed it to activate the partnership beyond the games and leverage the relationship to both build the team's branding and explore other partnerships.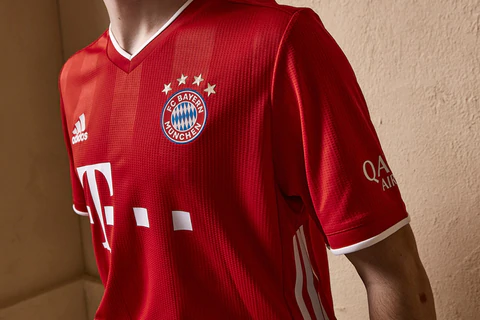 4. Shell and Formula 1 Scuderia Ferrari – 72 years of partnership (active)
The oil and gas giant Shell ranks among the world's biggest companies by revenue. It is next to impossible to not mention Shell and Ferrari in the same breath. Bringing much more to the table than a traditional sponsor, Shell was one of the brand's closest sponsors and technical partners for more than 70 years. The partnership began in 1950, during the first World Championship Series, and was renewed most recently in 2021.
As some keen observers have noted, Ferrari doesn't really do any advertising of its own for its cars, but benefits from product placements in some Shell ads.
One of Ferrari's few ads featured Shell. It was created in 2007 and took a month to produce. It was praised by many for its originality and qualified as one of the greatest car commercials of all time. In it, we see—and hear—five different versions of the sports car making their way across Europe. At the end of the ad, the last incarnation of the iconic car makes a pit stop at Shell to fuel up, as a voiceover pushes the message "Shell V-Power. Ferrari fuel for the road," affirming the link and history between the two brands.
In 2015, the fuel company's role in the partnership evolved from a technical partnership to one of innovation. Like many others, both brands were looking to develop more sustainable alternatives, such as biofuels and synthetic liquid fuels, with the goal of reducing global car emissions.
Today, they are both continuing to work together on improving Ferrari's V6 turbo-hybrid power unit, already one of the world's most efficient engines.
As with many other enduring sponsorships, the alignment of both brands has played a major role in ensuring the continuity of the partnership. The two also share many common values, including excellence and teamwork. Fuel being one the key components in motor racing, it's hard to imagine a better match.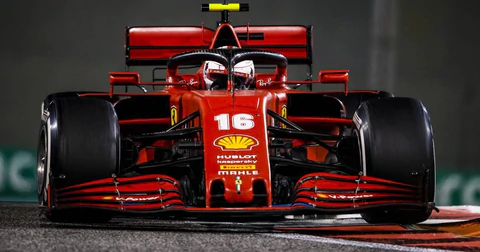 3. Olympics and Coca-Cola – 94 years of partnership (active)
A founding member of The Olympic Partner (TOP) program, the global soft drink company Coca-Cola has supported every edition of the Olympic Games since 1928. The oldest partner of the Olympic movement, it has also been involved with the Olympic Torch Relay for over 20 years. The beverage company recently renewed its sponsorship deal until 2032.
Before and during every edition, Coca-Cola rolled out marketing campaigns and activations in the different host cities. During the 2016 Rio Olympics, for example, its #ThatsGold campaign celebrated day-to-day moments and simple pleasures. The cola manufacturer created activations through influencers and a variety of tools including social media, and also ran global TV advertising campaigns. In the Olympic Park, attendees were invited to immerse themselves in the #ThatsGold experience. Fans were served the iconic beverage in gold aluminum bottles and could have their photo taken with the torch.
Coca-Cola also supports Olympic athletes through investments in youth sports programs and national Olympic teams.
Coca-Cola's presence and constant desire to enhance the consumer experience during the Games has played an important role in the bond between the two entities. Coca-Cola is an excellent example of a company that continually infuses its sponsorship with energy to keep it vibrant and relevant.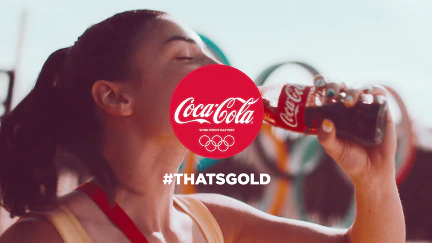 2. Ford Motor Company and Geelong Football Club – 97 years of partnership (active)
The Ford Motor Company and the Geelong Football Club boast the longest sponsorship of a sports team in the world. Both based in Victoria, Australia, the two organizations enjoy a partnership that dates back to 1925.
Throughout their history, the football club and the automobile manufacturer have forged strong ties with the community and been deeply committed to their fans. They have been together through more than 8 Grand Finales and 52 finals series. Under their partnership, Ford's logo appears on the team's jerseys and on other on-field apparel. Ford also provided long-term loan vehicles to the members of the Geelong Cats player leadership team.
After more than 97 years of partnership, Ford remains one of the club's main sponsors. Its record for the longest time to sponsor a sports team has been ratified by the Guinness Book of Records.
In 2025, they will celebrate 100 years of partnership. To date, no announcements have been made regarding plans to mark this milestone year.
The success of this partnership is rooted in their long-standing bond and shared common interests, which include maintaining close ties with their respective fans.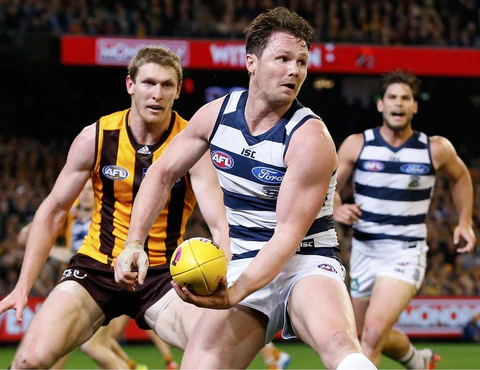 1. Slazenger and Wimbledon – 120 years of partnership (active)
The title of the world's longest-running sporting sponsorship in history belongs to that between Slazenger and the Wimbledon tournament, now in its 120th year. Slazenger tennis balls were initially used at the Wimbledon competition in 1902, at the request of players, and the brand has been Wimbledon's official ball supplier ever since.
Just like the ball's components, the relationship between the tournament and Slazenger has continued to evolve and strengthen over the years.
Each year, businesses in the Wimbledon Village try to outdo one another in creating the most original tennis-themed window displays. For the occasion, they are provided with rackets and Slazenger balls. Winners receive two Centre Court tickets for the tournament and dinner at a local restaurant, The Ivy and magnums of Lanson champagne.
Each year, Slazenger supplies approximately 52,000 yellow tennis balls to the championship, 20,000 of which are used for qualification and practices.
In 2020, following the cancellation of Wimbledon due to the pandemic, the All England Lawn Tennis Club, which manages the tournament's day-to-day operations, donated more than 30,000 Slazenger Wimbledon 2020 tennis balls to community coaches, parks, clubs, and schools.
This partnership is a great success story. It is an example of an association based on resilience and collaboration. Slazenger has always been involved in the success of the players and the tournament, and has always worked to make their products not just better, but second to none. They achieved what has never been done before: a 120-year sponsorship.
Conclusion
All these sponsorships are fundamentally different. As with love, there's no secret recipe for longevity. There are, however, similarities between each of these inspiring stories that we can learn from.
Each sponsor found its own voice and identity within the partnership. Each shared common values and interests with its sponsored brand, place, or event. And, finally, each understood the other's objectives within the collaboration. But even more importantly, each sponsoring company cared about the success of its partner and helped it thrive, keeping it closely involved with their brand.
If there's one thing to retain from these historic collaborations, it would be that, as in any relationship, to play the long game and ensure a successful, enduring partnership, each side must not only show the other mutual trust and respect but also be prepared to put in the time and energy required for the alliance to bear fruit.
Sources
https://www.ferrari.com/en-CA/formula1/partners/shell
https://www.shell.com/about-us/shell-motorsport/shell-and-ferrari/innovation-partnership-with-scuderia-ferrari.html
https://store.slazenger.com/customerservices/otherinformation/aboutus
https://www.guinnessworldrecords.com/world-records/longest-time-to-sponsor-a-sports-team
https://www.clipperroundtheworld.com/partnerships/insight/no-letting-go-why-the-sponsorship-game-is-a-long-one
https://www.clipperroundtheworld.com/partnerships/insight/no-letting-go-why-the-sponsorship-game-is-a-long-one
https://www.volkswagenag.com/en/news/2020/01/Audi_and_FC_Bayern1.html
https://fcbayern.com/en/news/2020/01/press-release-fc-bayern-and-audi-heading-toward-the-future-together
https://www.baa.org/partners/sponsors/john-hancock
https://olympics.com/ioc/partners/coca-cola-mengniu#:~:text=The%20Coca%2DCola%20Company%20is,the%20Olympic%20Games%20since%201928
https://www.90min.com/posts/the-longest-running-football-shirt-sponsorship-deals
https://www.liverpoolfc.com/news/announcements/351184-lfc-extends-record-breaking-partnership-with-carlsberg
https://www.reuters.com/article/us-motor-racing-prix-mclaren-sponsor-idUSKBN0FB0EF20140706
https://www.autosport.com/f1/news/mclaren-f1-team-loses-sponsor-tag-heuer-to-red-bull-for-2016-4996632/4996632/
https://en.esloganmagazine.com/craft-beer-carlsberg-liverpool/
https://www.thedrum.com/news/2016/11/04/adidas-creates-new-real-madrid-and-fc-bayern-munich-kits-recycled-ocean-plastic-part
https://www.coca-colacompany.com/press-releases/coke-thats-gold-campaign
https://www.dailymail.co.uk/sport/football/article-2361911/Liverpool-Football-Club-Carlsberg-toast-21-year-partnership.html
https://bleacherreport.com/articles/904378-liverpool-fcs-kit-manufacturers-and-shirts-sponsorship-history
The sports industry and sustainability part two: How the green leaders are creating change
https://www.lta.org.uk/about-us/tennis-news/news-and-opinion/general-news/2020/july/70000-tennis-balls-to-be-donated-to-venues-and-coaches-to-help-bounce-back-of-tennis/
https://www.wimbledon.com/en_GB/news/articles/2018-07-03/wimbledon_village_rises_to_the_occasion.html
https://www.volkswagenag.com/en/news/stories/2020/12/vfl-wolfsburg-leads-the-way-in-climate-protection.html
https://ads.spotify.com/en-US/news-and-insights/john-hancock-and-spotify-runners-playlists/
https://www.treehugger.com/what-adidas-and-parley-are-doing-oceans-4858290
https://www.youtube.com/watch?v=cFlaNJALet4
http://news.bbc.co.uk/2/hi/business/1551023.stm
https://www.statista.com/statistics/250856/revenue-of-bayern-munich-by-stream/#:~:text=The%20enterprise%20value%20of%20Bayern,annual%20first%2Dteam%20player%20salary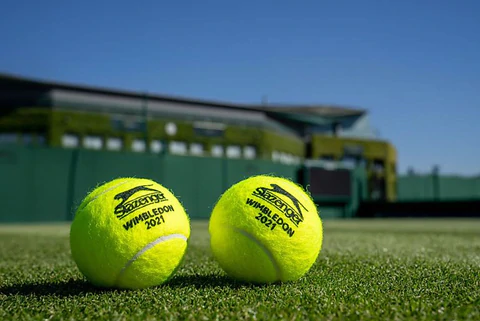 Our latest blog posts
Read what our industry experts have to say about the latest trends in sponsorship marketing and learn how to up your game.